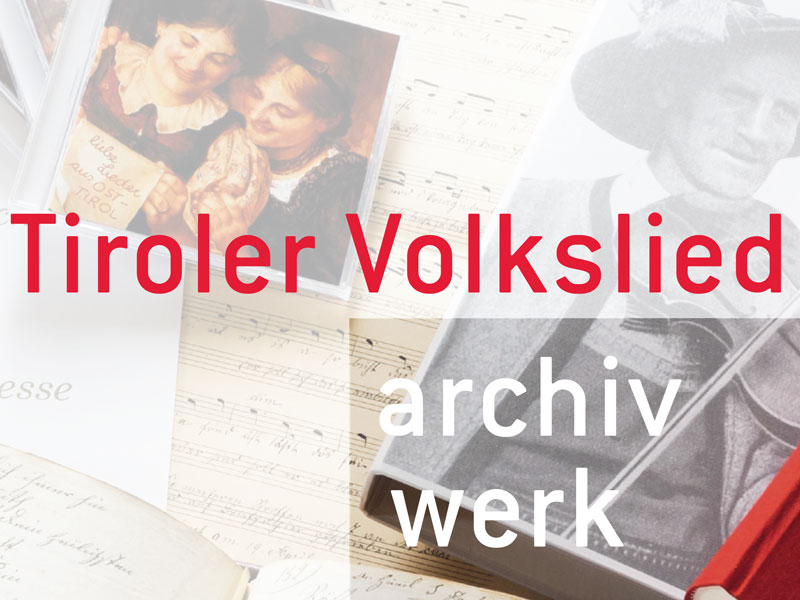 Tyrolean Folk Song Archive in Innsbruck
The Tyrolean Folk Song Archive in Innsbruck (Tyrol/Austria), which first opened in 1905, is a central facility for musical folk culture in Tyrol (North, East and South Tyrol). After an eventful history, it is now part of the Tyrolean State Museums.

COLLECTIONS
The Folk Song Archive has been collecting, researching and documenting folk songs, folk music, folk dances and folk poetry for almost 120 years. The collections comprise about 70,000 individual items relating to Tyrol's folk music tradition and are being constantly added to:
* Secular songs, yodels and Schnaderhüpfel (nonsense or mocking verses)
* Spiritual songs for church, the home and traditional customs
* Instrumental pieces and dances
* Rhymes and sayings (e.g. inscriptions for the home and grave), children's games, folk plays and dialect poetry
In the archive we have sound recordings, song texts and sheet music from oral and handwritten sources from the 17th century to the present day.
Our library with its audio section also has printed songbooks, pamphlets, sheet music, specialised literature, magazines and sound carriers (CDs, LPs, etc).
SERVICES
Our archive is open to everyone interested in folk songs and folk music – from singers and musicians to scholars and people who simply like to listen.
We are continually working to make these valuable materials more accessible to the public. You can search and order songs, pieces of music and specialised literature from the Tyrolean and all the other Austrian Folk Song Archives, also via our online database: www.volksmusikdatenbank.at.
PUBLICATIONS
Our publications are designed to present the treasures of our archives and thus make them more readily available:
ONLINE EDITIONS
Songs and sheet music from our archives and from bequests and old prints are available here (including some for free downloading), e.g.:
Koch-Wallner Collection: songs, yodels and instrumental pieces from the Alpbach Valley in the 1930s (original manuscript, texts mostly typewritten)
Marian Mass for mixed choir and wind accompaniment (in modern notation)
Sheet Music Edition of Tyrolean folk music: instrumental pieces and songs from our manuscript archives as well as from bequests and old prints, transcribed into modern musical notation (accessible with Internet Explorer and Scorch Plugin)
CDs AND MUSIC BOOKS
with especially interesting items from our collections can be found in our Shop, e.g.:
CDs with music from Tyrolean regions
Mainly through the field work we have conducted in various regions of Tyrol during the last few decades, we have been able to produce several CDs with songs and instrumental pieces recorded locally:
CDs with historical Tyrolean folk music
Historical folk music of the 19th century, especially from the time of the touring Tyrolean National Singers, in the original and in arrangements (including by Beethoven), e.g.:
CDs for Christmas
Music in the regional tradition has been compiled and recorded in the popular series of "Tiroler Weihnachtskonzerte" (Tyrolean Christmas Concerts), which was begun many years ago, combining rural masses written by Tyrolean composers with folk music and Christmas carols, e.g.:
Sampler with the finest recordings from the Tyrolean Christmas Concerts:
CD with guitar and Jew's harp music
Folk music rarities from Tyrol: The guitar in old Tyrolean tuning ("Zigeunerstimmung") allows simultaneous play of melody and accompaniment. Just like the Jew's harp, it always has a basic key, which gave this CD its name: